If you notice a crack in your plaster, complete the leak test. If the Leak Test is positive, call us to repair any damage that may have already started. If leak damage is allowed to persists, without repair, it will continue to worsen, lead to further gunite damage and be more costly to repair. Structural damage to your property and that of your neighbors is a real possibility when leaks are not properly repaired.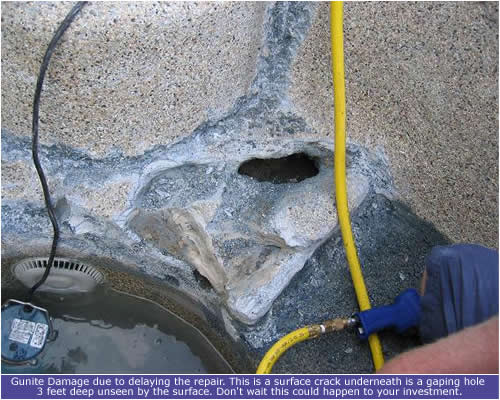 Call us if you suspect your pool or spa is leaking and we will run additional tests to determine what needs to be done to repair any crack and prevent further loss of water. Maximum Pools, Inc. uses one of the most effective leak treatments available for successful repair of leaks.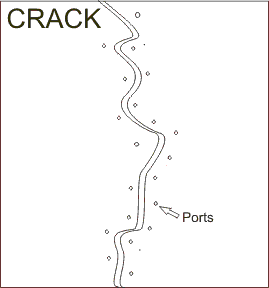 What is Epoxy Injection?
Epoxy Injection is a highly bonding process used for the repair of cracks and leaks in pools or spas. Epoxy Injections are performed with two-component equipment for repair of extensive crack damage. This process is completed after emptying the pool or spa or using our scuba underwater equipment if the crack damage is extensive. Epoxy has the bonding strength of 13,000 PSI (pounds per square inch) with a drying time of 80 minutes. By comparison, Gunite has a strength rating of 3,000 of PSI (pounds per square inch). The Epoxy that we use is solvent free and is approved for drinking water contact.
| | |
| --- | --- |
| | Cracks can appear in the walls, spa seats and tile. Structural damage may occur is not addressed, could leave to other serious problems such as damage to your gunite, steel even your property. |